Highlight
A unified approach to resilient post-Covid-19 urban food systems in Pakistan
The impact of the Covid-19 crisis on food systems has exposed the fragility of food security and nutrition in cities in Pakistan, and other countries around the world. Rafia Haider, a member of the Pakistan Administrative Service, makes the case for governments, NGOs, and other food systems stakeholders to coordinate efforts to ensure vulnerable people can access nutritious food in times of crisis.
Food and Nutrition security is a challenge for Pakistan, with 36.9% of the population being food insecure and 20.5% being undernourished (National Nutrition Survey, 2018). Provincial governments have worked hard to improve this dire situation by, for example, working on projects to prevent stunting and wasting among children with dedicated Integrated, Reproductive, Maternal, Neonatal and Child Healthcare and Nutrition Programmes, providing nutritional supplements and medical care.
However, the global COVID-19 pandemic has had an additional huge impact on household income especially in urban centres of Pakistan. Intermittent lockdowns, closure of various industries, and the implementation of other restrictions from time to time has disrupted the income of many households who rely on daily wages. This inconsistent income pattern has had a direct impact on the nutritional security of the region.
Government actions to alleviate COVID-19 impacts
During and after the countrywide lockdown in April 2020, the government took steps to address the situation, based on the issues facing those who struggled to access and secure nutritional food for their families. Some key interventions were:
The district administrations played a crucial role in providing administrative oversight for all policies developed at the national or provincial level. During this time all government tiers, from national to city, worked together to deliver the newly developed polices to provide nutrition to many vulnerable groups.
Uninterrupted food supply from farms to major urban and rural food markets was supported throughout the country during the lockdown, with the help of district administrations and provincial Agriculture and Food departments. Comprehensive planning was done for this by city districts, provincial departments of Food, Agriculture and Industry as well as the National Food Security Division. This included the direct liaison of Agriculture and Food departments with suppliers and wholesalers, to ensure sufficient supplies from farms got to the markets. This was overseen by the National Food Security Division who ensured a regular supply between provinces. In addition, the city district administrations developed farmers markets in major cities to provide direct market access to low-income farmers to increase their incomes, without involving a middleman.
Aiming to alleviate poverty brought on by COVID-19, the government launched its flagship initiative Ehsaas Programme, which provided necessary cash support to vulnerable populations and supplemented household incomes. This was delivered through district administrations and provided eligible families with disposable income and enabled them to provide nutritious food for their family.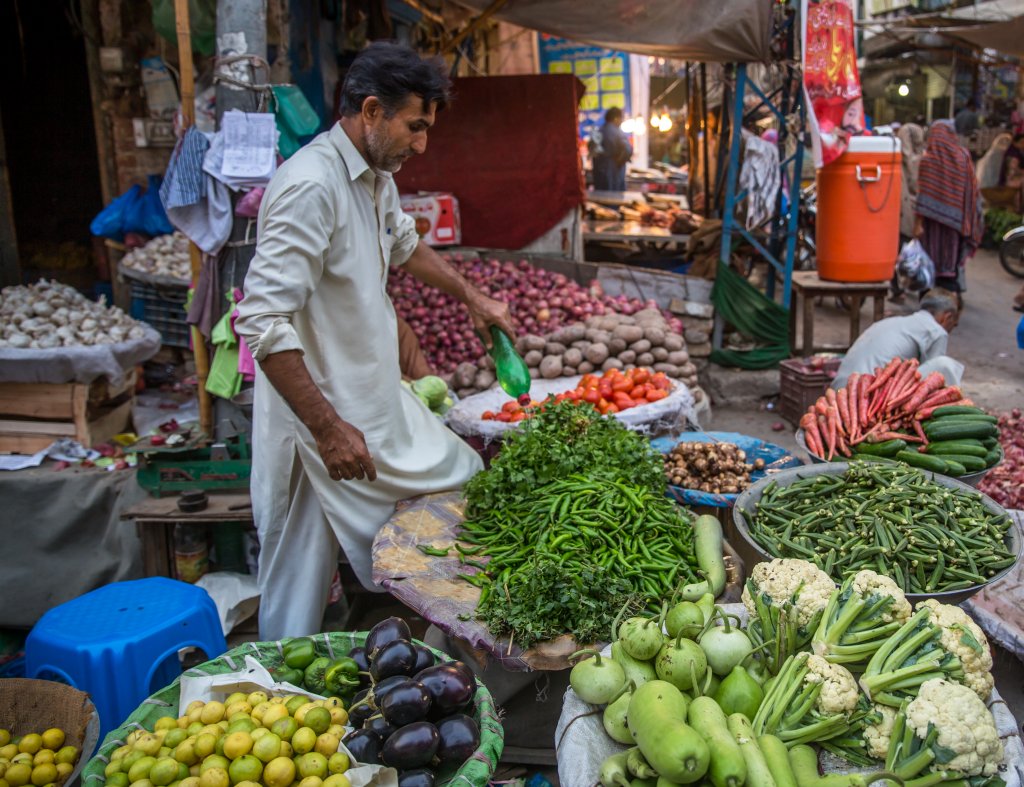 An active NGO sector
The government on its own cannot support and sustain long term poverty alleviation and food & nutrition security efforts without support. Pakistan, however, has a vibrant NGO sector which receives sizeable public donations that tend to peak during the holy month of Ramzan. These NGOs work to provide food/meals through their own setups or in high footfall places such as hospitals, prisons, bus stands, or even the new Panahgahs (shelters for travellers) established by the government. However, there is no central coordination of these NGOs, who tend to work independently and in isolation from each other – which often means that multiple organisations are working in the same area or with the same target group.
Other NGOs focus primarily on limiting and preventing food waste, and take unused or spare food from major food chains and markets to distribute to vulnerable populations.
The case for coordination
To ensure that nutritious food reaches, and is accessible to, the most vulnerable communities, a joint approach between government and NGOs working in the same field and area will make sure resources are used most effectively, where and when they are needed.
For this to work, a formal link can be established between the city policy makers with markets and NGOs to plan and execute projects aimed at provision of food to vulnerable populations. District administration can:
Set up district level groups with representation from government departments (including health and agriculture departments), market vendors, food chains and stores, NGOs working in the field of food provision and waste management, and regulatory bodies such as the food authorities would be able to work together to focus and direct the effort to where it is needed headed by the district administration.
Use this group to plan and execute initiatives and target the work of the NGOs to minimise overlap in the field or with vulnerable groups.
The district administrations can get additional support by engaging the district food authorities and developing special courses and training sessions. These courses may focus on quality assurance, storage and transportation management, as well as hygiene.
Working together the group can divert precious food resource, in the form of potential waste from big food chains, to vulnerable populations, and provide nutritious food to vulnerable groups.
Small scale initiatives of this kind with district administrations working with a few NGOs are present in different cities. However, a comprehensive planning needs to be in place by city governments and administrations to channelize interventions by the public and non-governmental sectors for the benefit of all, while ensuring food safety, nutritional security and dignity for the vulnerable populations.
Rafia Haider is a member of the Pakistan Administrative Service and has 8+ years experience in public health, administration, food safety regulations and municipal functions.