Highlight
Urban circular food systems and opportunities for cities in Africa
Kelley Rowe
Imagine a world where no one goes hungry, malnutrition in all its forms (undernutrition, micronutrient deficiencies, overweight and obesity) is no longer a by-product of outdated industrialised food systems – and end to end food systems are no longer broken and wasteful. Instead, our food systems will be developed to be truly circular and inclusive by intention and design.
The stark reality is that urban populations are increasing rapidly and cities around the world are already facing major challenges to ensure their urban residents have equal access to responsibly sourced, affordable, delicious, nutritious and safe food.
The Ellen MacArthur Foundation has highlighted that cities will be home to two-thirds of the global population, and people in cities will consume 80% of all food produced by 2050. Current food production systems are no longer suitable to meet these growing urban population demands. Food systems are vulnerable, increasingly disconnected, resource-intensive, polluting and wasteful – over a third of the food produced goes to waste. The onset of COVID-19 has brought to the fore the issues of food supply and security, when the ability of growers to get food to markets and to sell their products to consumers is restricted. It has shown that the current system is simply not sustainable.
The physical expansion of cities across the globe, the increasing urban population growth particularly in Africa and Asia, combined with the growing double burden of malnutrition and climate change, means that cities and all their key actors within them will have a significant role in reshaping the transformation of their urban food systems. Ultimately, it is the changes made at the city level, that will contribute to the transformation of our global food systems.
There are new systems and alternative models to consider. One of them is the circular economy for food which builds long-term resilience, generates business and economic opportunities, and provides environmental and societal benefits. The circular economy for food aims to eliminate waste, uses every part of the food produced, and uses its by-products to regenerate the growing environment. As economies and lives start to build-back following the pandemic, countless opportunities will begin to emerge. The challenge in the next decade is for African cities to develop healthier urban circular food systems at scale and at the city level.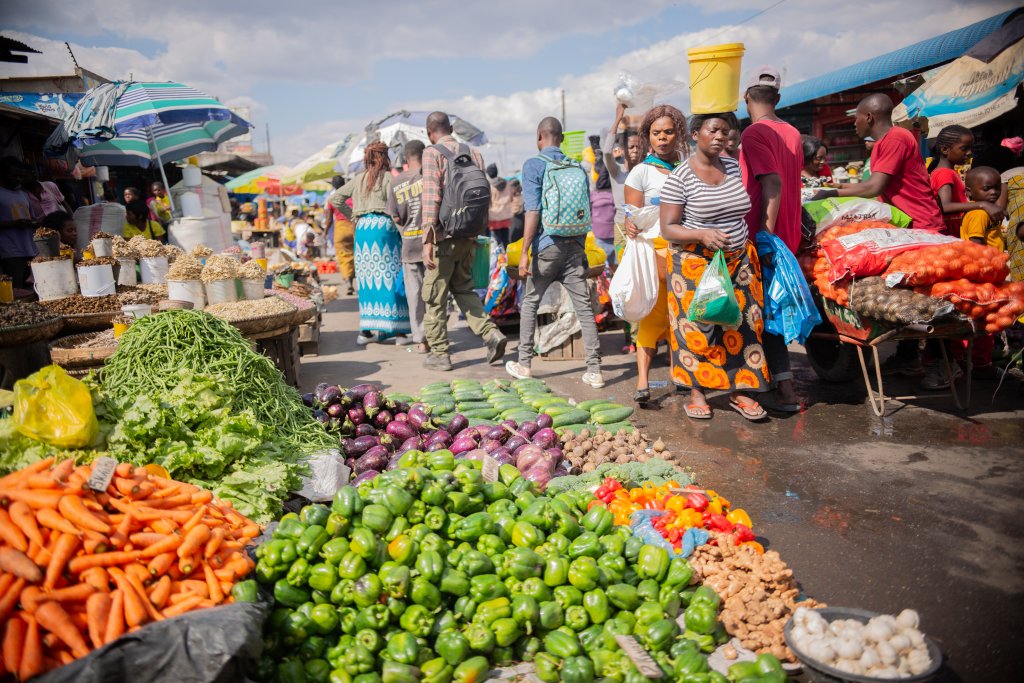 The opportunity for city governments in Africa and the creation of urban circular food systems
African cities are uniquely positioned to accelerate the transition towards urban circular food systems. Most cities are in their early stages of urban development or urban expansion. So instead of dealing with outdated urban infrastructures and antiquated systems, city governments can influence the design of urban circular food systems in tandem with their inclusive sustainable urban expansion plans. However, realising the vision of zero hunger and transformed urban circular food systems at scale cannot be achieved by city governments alone. A multi-stakeholder approach is necessary. Every city is different and is faced with its own set of opportunities and challenges, but there are many ways to achieve this using an inclusive circular approach.
Opportunities for city governments
Cities throughout Africa can support and drive circular food systems by coordinating and facilitating collaborative and co-creation efforts across the entire food value chain(s) with key actors who have a keen interest in transforming local urban food systems for the future. In addition, shared learning experiences and opportunities for co-creation between cities from across the world can help support the opportunities.
An excellent example comes from Quelimane (Mozambique) where two programmes were jointly designed and developed by the municipality of Quelimane and the city of Milan (Italy) to improve food access by supporting urban agriculture and local supply chains. Both cities are among the signatories of the Milan Urban Food Policy Pact, an international pact consisting of 211 cities (35 from Africa) and covering more than 450 million people, to create more sustainable urban food systems.
City governments can enable innovation
Using a collaborative design approach, and the participation of various key stakeholders across the urban food value chains, including urban residents and local urban growers, city governments can develop key insights and enable actionable outputs into a wide range of innovative and technology-enabled solutions and business models. From an upstream perspective, there can be significant opportunities in improving last-mile urban food distribution solutions (getting the food from the market to the home of the consumer) to reduce food waste and costs;
City governments can also look at ways to increase the participation (and livelihoods) of local food growers and improve connections between the urban and peri-urban areas. They can create the enabling conditions that will support growers to produce more food and use fewer inputs and resources, which will improve the transition towards the urban circular food systems. Cities could explore ways to improve the support offered (such as financing and training) to urban vertical and hydroponic growing initiatives which improve the use of rainwater harvesting and water reticulation systems. In addition they could look at converting waste to energy, or using decentralised renewable energy systems. Further downstream, city governments could look at creating the space for innovation hubs or business incubators to support new entrepreneurial business opportunities, where food waste could be collected and used to create compost or create biodegradable packaging and, looking ahead, innovative urban food distribution or reverse logistic systems could be established.
Reconnecting urban residents with food
African cities can encourage an improved relationship to food for their urban residents. While urban food systems require tremendous work to scale up to meet the total nutrient demands for all urban residents, reconnecting urban residents with their food through community food gardens could play a major role in this transition. Following a short online survey with over 80 participants (with the majority located in Southern Africa and living in urban areas), which I conducted in early 2021, the majority expressed a strong desire to be reconnected with their food, and expressed various ways within which they would like to participate. Some suggestions were to develop and support local community gardens, to learn more about urban circular food systems, and to ensure these community gardens would have a positive impact in creating and supporting local livelihoods, the local economy and the environment. Some examples of this in practice are, the Arusha Edible Gardens in the city of Arusha (Tanzania), the micro gardens programme established in Dakar (Senegal), and the Oranjezicht City Farm initiative in Cape Town (South Africa). They are excellent community food growing programmes which are supported by their respective city governments.
Through collaboration and discussion with key stakeholders, African city governments have the unique opportunity to create and support the design and transformation of their urban food systems to be circular in the future.
Kelley Rowe is an advisor, coach, and consultant working at the intersection of technology, innovation and the circular economy. Kelley's massive transformative purpose (MTP) is to accelerate the transition to a sustainable and meaningful future. She is the Co-Founder of AfricaExO, a Co-creator of Women4Impact, and is a certified OpenExO Sprint Coach, Consultant and Trainer.